El Clasico de San Lorenzo - Racing no tuvo un nombre 'oficial' como "superclasico" o "clasico de Avellaneda" antes ahora. Para mi, es claro que esta noche ellos vayan a jugar un clásico de sufrimiento y esperanza. Un club tiene un nuevo técnico, el otro un técnico que pueda ir después de hoy. Los dos están muy lejos de ser campeón con intereses a mantener su posición en la A. Si San Lorenzo ganaré puede superar unos equipos en el ascenso y Racing tiene la oportunidad a ganar tres puntos importante para el año que viene.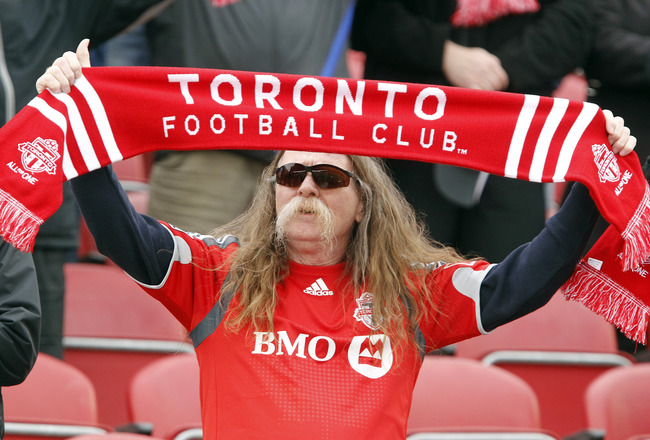 En mi opinión Carusso es un loco, posiblemente esto es suficiente para ganar los últimos partidos del campeonato y salir (este año) del ascenso. SanLore necesita toda la suerte que no tuvo antes que hoy para hacer esto, y para mi, nadie puede seguir con su sufrimiento sin la esperanza que mañana va a ser diferente.
Y en reconocimiento de este 'clasico de sufrimiento' voy a llevar mi camiseta de Toronto FC; a ser hincha de TFC está en el diccionario bajo la palabra "sufrir".
____
Today is the "Clasico" between San Lorenzo de Almagro and Racing Club de Avellaneda. Unlike the 'superclasico' or 'clasico de Avellaneda', this clasico doesn't have a name. As I see it, tonight they will be playing the clasico of suffering and hope. One club, San Lorenoz, has a new manager, while Racing's could lose his job after tonight. Both are very far from the top of the table and are focused on staying in the Primera A. If San Lorenzo wins, they will rise in the ascenso while Racing needs the three points for next year's ascenso.
In my opinon, Carusso, San Lorenzo's new manager, is crazy. Maybe this is what San Lorenzo needs to win the final matches of the season but they need all the luck that they haven't been getting this year. They can only with their suffering with the hope that tomorrow they will be better.
In honour of the "clasico of suffering" I'm going to wear my TFC jersey, because in the dictionary below the word "suffer" is the definition "to be a supporter of TFC".
Image from: http://playfutbol.infobae.com/notas/641162-Raci

ng-San-Lorenzo-un-clasico-de-necesitados-y-que-tendra
; http://bleacherreport.com/articles/1122548-struggling-reds-to-battle-mexican-power-santos-in-concacaf-semi-final-play